Why would you want to fly a commander?

With an airframe design decades newer than the competition, Commander aircraft are certified to FAR 23 through Amendment 7, meeting more stringent standards for single engine high performance aircraft. Most single engine high performance aircraft, originally designed in the 1940s and 1950s, are certified to CAR 3, a standard far less stringent.
The differences are dramatic. FAR 23 through Amendment 7 represents one of the most substantial changes to aircraft certification standards, and brought about some of the best improvements in aviation history. The Commander incorporates all of these improvements, while none of these vital factors were specified for CAR 3 certification. Some of the more important areas that affect both safety and performance include:
Fatigue Evaluation, Wing and Associated Structure (23.572)
The increased strictness of fatigue evaluation for the wing and associated structures is probably the most significant of all changes brought about by Amendment 7. Previous standards required only a static load margin of safety....a big difference from Commander's "fail safe" fatigue evaluation. Fail-safe structure as defined here means that the secondary wing structures will carry 87% of the limit load in the event of the failure of a primary load carrying member. Older designs are not even required to provide any back-up load carrying structure in the wings.
Fail-Safe Elevator Control System (23.667)
This standard for control systems requires a more effective trim tab that must be independently capable of providing control for safe flight and landing should the primary control system fail. The Commander has demonstrated to certification standards that it can be safely flown with just trim and power.
Increased Gust Loading Requirements (23.572)
Under CAR 3, design gust loading was based on wing loading and established at 30 ft./sec. Under FAR 23, the requirement increased gust velocity by 67% to 50 ft./sec., and is based on airplane mass parameters....a more realistic approach to the effects of higher speeds and higher altitude on gust loadings.
Lightning Strike Analysis (23.876 & 23.954)
This requirement reduces the probability of damage from a lightning strike by incorporating means to divert the resulting electrical current so as not to endanger the airplane. Section 23.954 requires the fuel system be designed and arranged to prevent the ignition of fuel vapor within the system by direct lightning strikes, corona, or streamering at the fuel vent outlets.
More Stringent Tests for Usable Fuel (23.959)
Older requirements for testing usable fuel did not always include the most critical attitudes for a particular aircraft. The Commander has been tested in extended deep glide, prolonged side slips, and combinations of maneuvers considered critical; most others have not.
Throttle and Flap Actuated Aural Gear-up Warning (23.729)
With the Commander, continuous gear aural warning is provided when either the throttle is fully closed, or the wing flaps are extended to, or beyond, approach position in a gear up configuration. This additional safety device can help prevent the dreaded inadvertent gear-up landing.
Non-Siphoning Fuel Caps (23.967)
This important requirement precludes the loss of fuel due to an improperly installed or lost fuel cap. Commander incorporates a spring loaded closure system that prevents siphoning of fuel even when the fuel cap is not installed.
Improved Accessibility of Fuel Selector Switch (23.777)
This section demands better attention to the placement of fuel selector valves and selectors. In the Commander, the selector is located directly between the pilot and copilot seats on the center console, easy to see and reach.
When you add all these additional important safety features up, you can see why Commander quality and design is much more than just skin deep.

Commander offers the finest cabin environment in its class. Its spacious interior rivals cabin class aircraft, offering ample space for the largest adults.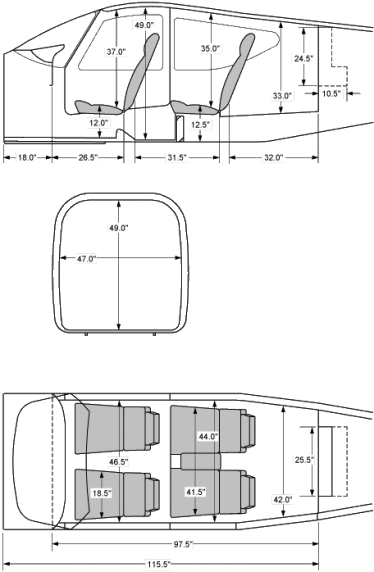 This is because we approached the design of the Commander's cabin differently than our competitors. We designed the interior space of the cabin and cockpit first, using ergonomics to create an environment that conforms to human requirements. To accomplish this, we employed Dryfuss Charts, which utilize anthropometric data to match human characteristics to industrial design.
The result is a cabin designed to provide unmatched comfort and ease of operation. Two large doors provide easy entry and exit. All controls are intelligently placed so they can be easily reached. Sight lines for the pilot and passengers are unobstructed in all quadrants. Head room, shoulder room, and leg room are optimized for larger adults.
Commander seats rival those found in the largest corporate jets. They are wide, strong, and luxurious. Layers of variable density foam are ergonomically-designed to support your head, neck, back, and legs, reducing fatigue on even the longest flights. Steel seat frames are securely attached to the cabin structure, and track fore and aft for optimal positioning.
* Cabin dimensions derived from Business and Personal Aviation magazine 1997 Planning and Purchasing Guide comparisons
All seats recline, and optional adjustable lumbar supports in the front seats provide additional comfort. Front seats provide automatic vertical and horizontal adjustment with seat position. Seat backs recline up to 30 degrees for optimum comfort.
Each seat position is equipped with a stereo intercom system, overhead reading light, overhead fresh air vent and control, and a floor (heat) vent and control to suit individual tastes. The 22 cubic foot baggage compartment and large baggage door at waist height accommodates large luggage easily.
Matching the level of comfort and space is the remarkable level of noise suppression. Commander utilizes five layers of insulation and acoustical materials to reduce noise levels substantially, including acoustic foam, microlite, thermoplastic and rich pleated leather to suppress noise.
ABS side and headliner panels retain their shape regardless of environmental conditions. Glove-soft leather, English wool, and deep-pile carpeting wrap you in unrivaled comfort. Cast aluminum control wheels and door handles offer solid feel and strength. In short, we use only the highest quality materials, and it shows.
When you sit in other aircraft in this class, the difference in design philosophy is apparent. Their cabins are either much narrower or shorter, or a combination of both. There are blind spots where vision is greatly restricted. Controls are harder to reach and many times out of view. Seats are lower to the floor and contain less padding, increasing fatigue on even shorter flights. Baggage space is smaller and more difficult to reach. Noise levels are higher.
Commander's attention to the many details of the human form translates into a cabin environment second to none. The aircraft cross-sections depict what a difference this makes when real people are actually seated in the aircraft.
When you add it all up, the end result is an airplane that respects your physical and mental needs. In the real world, on flights of any length, you will see, hear, and feel the difference. Less fatigue allows you to be a better pilot, and gives your passengers the travel experience they deserve.

For years, aircraft designers left one important element out of the equation when they developed new aircraft: the customer.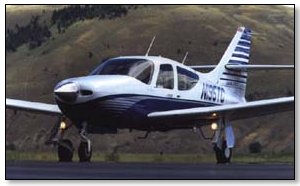 In their quest for more "performance", they created aircraft with major compromises in areas that matter in the real world. Areas like comfort, handling, visibility, operational simplicity, ergonomics, and serviceability.
Commander set out with these attributes in mind. The end result is an aircraft designed for today's pilots, certified to higher standards with features that make your total flying experience a cut above. The Commander has the largest cabin in its class, able to carry four large adults in comfort and style. Its unique aerodynamic balance produces unmatched flying qualities. The "squared oval" cross-section, 47 inches wide by 49 inches high, provides maximum head and shoulder room for both front and rear seat passengers. Instrument panel layouts are professionally designed for individual aircraft. There is ample space to install avionics, including complete co-pilot instruments. The engine gauge cluster is front-mounted for easy access behind the panel. All switches and circuit breakers are grouped by function. Night lighting is provided by a variable intensity flood system. A powerful 28 volt, 80 amp electrical system provides Commander aircraft with capacity for the optional equipment of your choice. Commander aircraft have integral landing lights and wide angle taxi lights. They are equipped with triple strobe lights and dual vacuum pumps. Redundant systems such as dual controls, dual brakes, alternate static source, separate magnetos, dual trim actuators, and two cabin doors provide convenient access and an extra margin of safety. All are standard equipment on Commander aircraft.
Commander's design philosophy is to create modern, straightforward, and reliable systems, reducing pilot workload while increasing peace of mind. This approach pays off every time you climb aboard. When you add it all up, the logic is compelling. Inside and out, the Commander is the better aircraft, by design.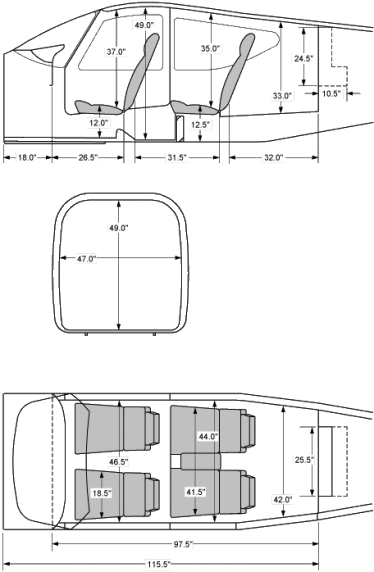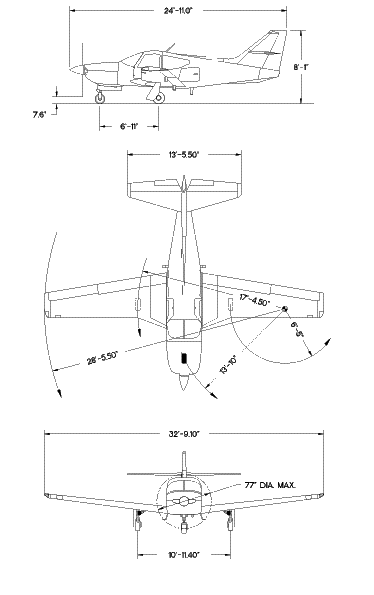 I rest my case!!