DeHavilland Tiger Moth

DH 82

ca. 1942
Tiger Moth N90277- HU726- U2753-1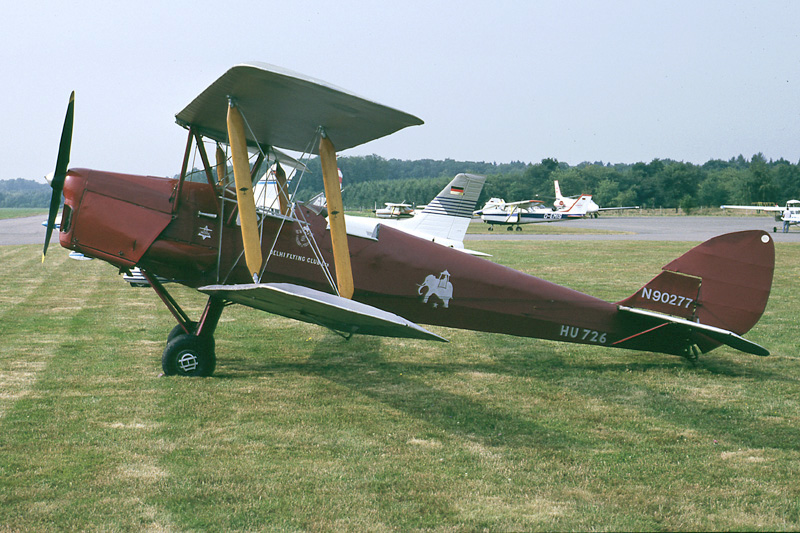 Original instrumentation with a very rare VSI and "triangle" artificial horizon
Airframe 6995 TT
Engine approx. 840 SMOH (333 STOH May 2005) Standard Gipsy Major 1 F. Bronze headed Gipsy I ser.no. 83988. Many important mods incorporated. Cylinders overhauled by Ed Clark 1981. Extremely good compressions, oil consumption less than 1 ltr/hr = good to very good. Fuel cons. 27 ltr/hr. 3hr 11 min endurance. Recently both Mags overhauled. 14 mm spark plug modification to accept NGK BP6 HS
Propeller DRG DH 5220, medium cruise prop.
Maroon - silver paint scheme
Paintwork 6-7 eaten somewhat by the summer sun
No fancy interior, original bucket seats
No electrics of course.
New set of Brunton s/s rigging wires 2004.
Tie rod mod available, not installed as yet.
New inner tire tubes 2003
Tires 1981.
Spare prop.
Two spare ailerons.
One new tailplane spar.
Spare intake manifold.
Large inventory with small items, such as tailskids, springs, too much to list.
Special tooling.
Spare windscreens etc.,
P1 compasses.
Cockpit cover new.
Two additional Fuel tanks, one unserviceable.
Spare fuel cocks.
Probably 1942- exported during war to India for EFTS, never on the British register.
Logbooks complete from 1951. Delhi flying club registration VT-DKN. 1980- Sold via Vintair, who exported several Tigers to the USA, partial rebuilt by A&P. Cylinders overhauled by the famous Ed Clark, and 14 mm spark plug holes fitted, accepting standard NGK plugs which is a big improvement, new plugs every season. Fuselage and wings recovered in ceconite. Then the project stalled, plane never flew in the USA.
1981- Bought by present owner and restored at Lelystad, The Netherlands. First post-restoration flight in 1982. Registered as experimental- exhibition category, which has many advantages for maintenance. Main post-restoration inspection at the FAA branch in Frankfurt. Obtaining a British Export CofA, first step for a normal FAA CofA proved to be very cumbersome and efforts disbanded. This is because the tiger has never been officially registered in the UK during WWII.
The Tiger then flew extensively over many countries in Europe, mostly hopping in France but also the UK, Germany, Switzerland, Belgium and Denmark. Veteran of many meetings such as Woburn, Stauning and Schaffen-Diest. She gave stirling service, no hiccups whatever apart from the usual maintenance . Always flown on Mogas, since 100 LL is not allowed in this Standard Gipsy Major 1 F. Mogas never gave any problems, cuts down the hourly cost considerably and is always available. Flown by owner only, no aerobatics. Last years very few hours, due to owner living abroad.
Michiel Slingerland | email: Slingerland@Lycos.de | fax: +3211446875